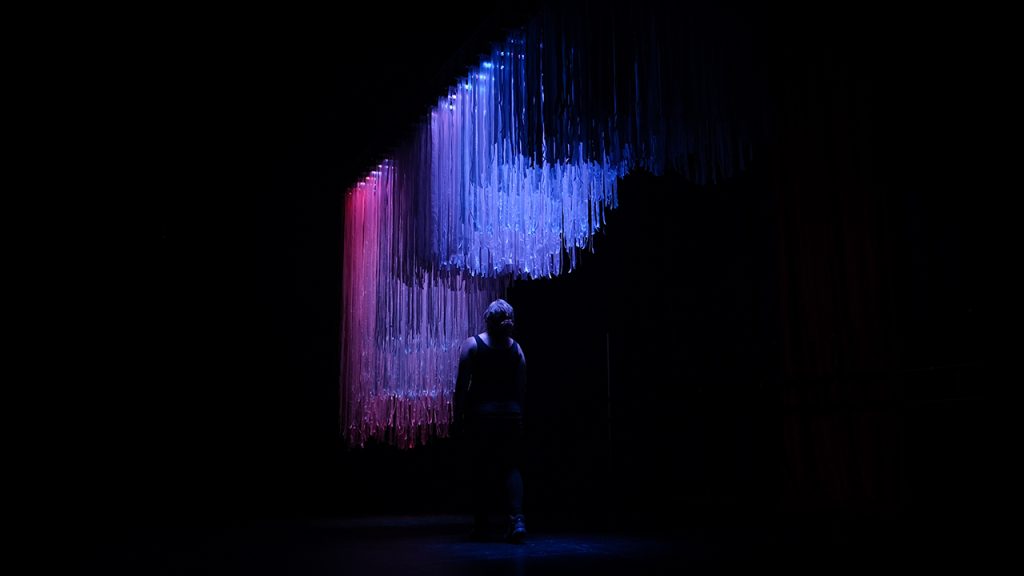 Climate Canopy exhibit displays global warming in new light
The National Centre for Atmospheric Science, in collaboration with artist Alison Smith, has created a new sensory art installation to encourage climate and community action in the face of global environmental challenges.
The suspended exhibit, titled Climate Canopy, uses light and recycled materials to display the story of global warming through colour and touch.
Climate Canopy will be exhibited for the first time at Leeds Light Night on Thursday 14th and Friday 15th October 2021, before becoming available for events and spaces worldwide.
Twenty-six warming stripes
Taking inspiration from Professor Ed Hawkins' viral warming stripes graphic, Climate Canopy translates numerical climate data into an immersive, colourful display and encourages people to think about the choices we face ahead of the United Nations Climate Change Conference – COP26 – this November in Glasgow.
The sculpture is formed around 26 energy efficient bars of light, animated in a sequence that reflects the timeline of climate change.
These stripes of light turn from mainly blue to mainly red, illustrating the rise in average temperatures in virtually every region and country in the world.
The blue and red lights shine down through a fringed canopy, suspended just above head height. Long white panels of fringing, made from repurposed single-use plastic and cotton jersey offcuts, cascade down from each glowing bar.
As viewers move under the sculpture, the lights become redder and the fringed panels become longer, reflecting the growing impacts of climate change on society.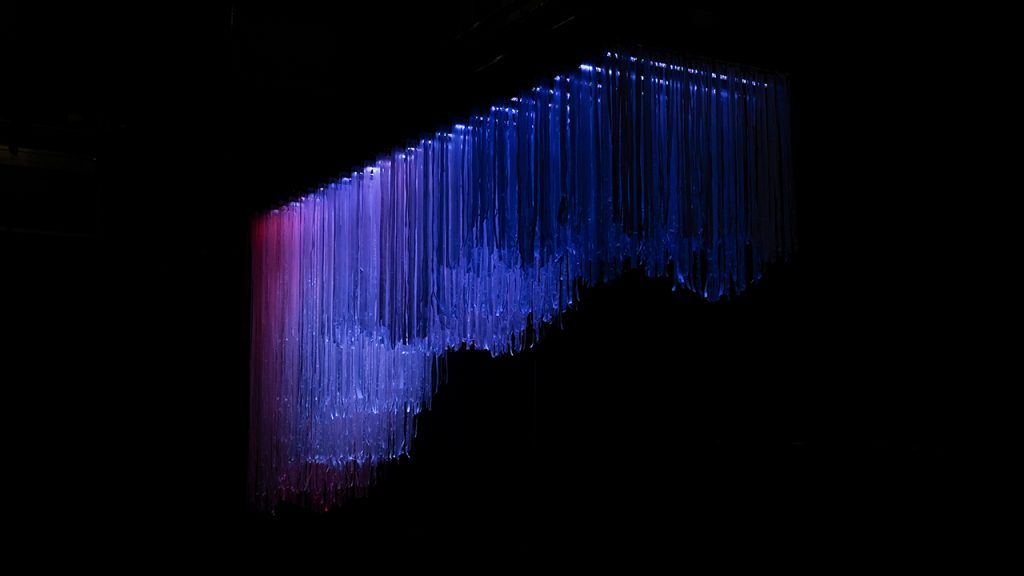 Environmentally-conscious art
Climate Canopy has been produced by Leeds-based visual artist Alison Smith, known for her environmentally-conscious approach to art. Alison's sculptures are composed of low-energy products and materials that would usually be considered rubbish, which manifests the idea of restoring balance between man-made things and the natural world.
In making the Climate Canopy, artist Alison Smith and her technical fabrication team sought to create an immersive and sensory environment that brings Hawkins' warming stripes to life.
Paul Millhouse-Smith and Matthew Collins, who specialise in exhibition construction and artwork installation, realised Alison's vision for the sculpture using space provided by East Street Arts – an artist-led art charity that supports the wider community in Leeds.
The exhibit stands in good company, following a long-line of previous works inspired by the warming stripes. Professor Hawkins, a scientist at the National Centre for Atmospheric Science and University of Reading, has seen his colourful design used across a variety of contexts, from the front cover of The Economist to rock band Enter Shikari.
Science, art, and society
Bringing art and science together, Climate Canopy acknowledges that people across society must work in collaboration to solve our environmental crisis. Climate change is not only a scientific problem, but a human problem.
Dr Harriett Richardson, Communications Manager at the National Centre for Atmospheric Science, hopes that Climate Canopy can help to illuminate conversations on climate change and sustainability by harnessing the power of creative arts.
"The arts hold tremendous potential for communicating about our science and our world. They have the power to draw attention to the issues surrounding climate change, and recent research shows that paintings, stories, poetry and theatre can drive conversations about global warming. We know that a truly interdisciplinary approach is needed between artists and scientists to help this happen, and the National Centre for Atmospheric Science is committed to championing new ideas and approaches across our organisation and community. Climate Canopy joins a series of recent art-science projects we've supported, such as Turn the Tide and Grandma's Footsteps."
Explore Climate Canopy
Climate Canopy will be displayed in Carriageworks Theatre in Leeds on Thursday 14th and Friday 15th October 2021, between 6.30pm and 10.30pm, as part of Leeds Light Night.
Leeds Light Night is a free arts and light festival that transforms some of the city's most recognizable spaces into spectacular artworks and captivating performances.
You can share your experiences at Leeds Light Night on social media by using the hashtag #LightNightLeeds2021. And, you can join the Climate Canopy conversation by using #ClimateCanopy.