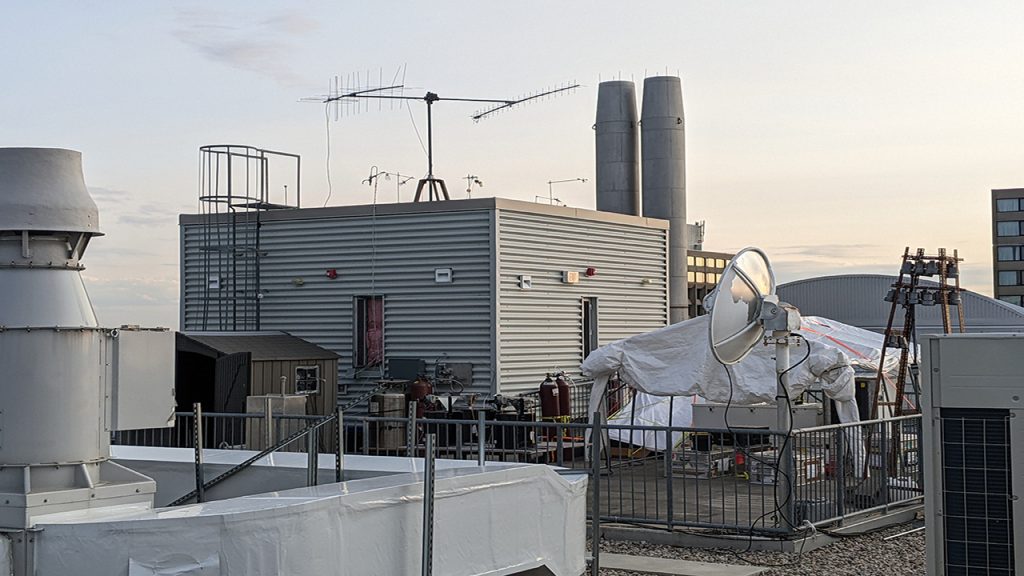 International team of scientists probe the causes of air pollution in North America
Researchers at the National Centre for Atmospheric Science tracked air pollution emissions across North America as part of a six-week study in Toronto with York University.
To build a more complete picture of poor air quality across North America, a team of scientists used satellites, research aircraft, monitoring vehicles and stationary sensors to detect the sources of air pollution. The extensive scope of their study included observing emissions from transport, industry, agriculture, consumer products and wildfires.
"The six-week study is known as The Toronto Halogens, Emissions, Contaminants, and Inorganics eXperiment, also known as THE CIX. It's a ground-site measurement campaign associated with the large-scale programme Atmospheric Emissions and Reactions Observed from Megacities to Marine Areas, called AEROMMA, which is led by the US National Oceanic and Atmospheric Administration," explains Pete Edwards, atmospheric chemist at the National Centre for Atmospheric Science and University of York.
Changes in air pollution
THE CIX study, and wider AEROMMA project, aims to quantify the emissions that are contributing to poorer air quality, and to understand how these emissions react with one another in the air.
Air pollution is predominantly caused by emissions of nitrogen oxide gases (NOx) and volatile organic compounds (VOCs). These emissions contribute to the formation of 'ground-level ozone', a harmful air pollutant that can trigger a number of health issues.
The sources of these emissions have changed over recent decades. Emissions of NOx and VOCs from vehicles have fallen significantly, however consumer and industrial volatile chemical products (VCPs) are an increasing source of VOC emissions.
VCPs include a number every-day products, such as paint, domestic cleaning agents and perfume, and are a large source of VOC emissions in densely populated urban areas.
Every product releases a different set of VOCs into the air, leaving behind a kind of 'chemical fingerprint'. These chemicals then interact with one another in the air, sometimes creating new pollutants in a process known as 'secondary formation'.
Air pollution and the wildfires in Canada
This summer wildfires have raged across Canada, recent figures released by the Canadian Interagency Forest Fire Centre report that there are currently 909 active wildfires.
Back in June, many cities across North America were engulfed by smoke from the wildfires. The air pollution caused by the smoke led to health officials distributing facemasks and advising people to stay indoors.
Preliminary results from the CIX study have directly observed negative impacts on Toronto's air quality caused by wildfire smoke. These results show not only the expected increase in pollutants such as particulate matter but also changes in atmospheric chemistry, such as increases in gas phase chlorine compounds, which can influence the subsequent formation of secondary pollutants like ozone.
As global temperatures continue to rise, dry weather and heatwaves create conditions in which extreme wildfires are more likely to occur. It is anticipated that the frequency and intensity of wildfires will increase because of global warming, therefore it is important that we understand the impacts of wildfire smoke on air quality.
Improving air quality
Poor air quality is known to have a negative impact on human health and is a health concern around the world.
With the increase in the use of VCPs in urban areas, and the occurrence of wildfires across Canada, the emissions contributing to air pollution across North America are changing.
THE CIX study will help researchers to better understand the interactions between 'natural' and 'urban' emissions, and the impact this has on air pollution and human health.
Findings from THE CIX and the wider AEROMMA study will be shared with state and local environmental officials to inform decisions about the most effective ways to reduce air pollution.