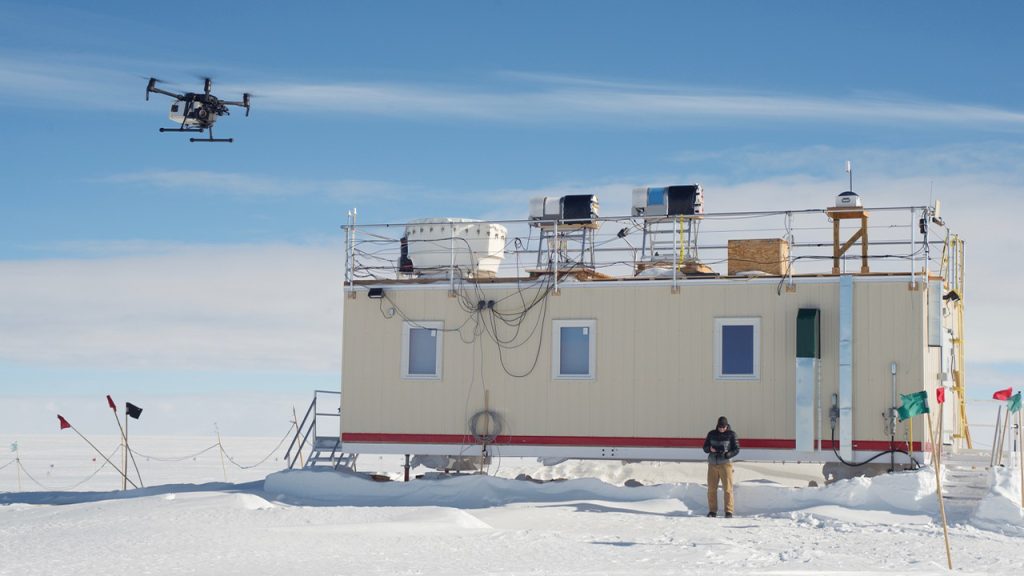 Job Opportunity: NCAS Research Fellow in Polar Observational Meteorology
Location: University of Leeds
Salary: £35,333 – £42,155 per annum
Contract length: Fixed Term (for 18 months due to external funding)
Contract type: Full Time
Closing date: Wednesday 28 September 2022
Interview date: Friday 21 September 2022
Are you highly motivated with a background in atmospheric science, polar meteorology, remote sensing, physics or a related field? Would you like to be part of an exciting and internationally leading atmospheric science project in Greenland? If so, we'd love to hear from you!
The National Centre for Atmospheric Science (NCAS) and University of Leeds (UoL) is seeking an observational atmospheric scientist to take a leading role in the newest phase of the Integrated Characterization of Energy, Clouds, Atmospheric state, and Precipitation at Summit (ICECAPS) project.
The ICECAPS project has been operating continuously at Summit Station, Greenland since 2010. The project operates a sophisticated suite of ground-based instruments year-round for observing clouds, precipitation, and atmospheric structure, which includes a radar, two lidars, a ceilometer, two microwave radiometers, an infrared spectrometer, a sodar, precipitation sensors, and routine radiosondes. ICECAPS has amassed a large dataset over ten years, which has enabled novel research on cloud properties, radiation and surface energy, trace-gases, and precipitation processes over the Greenland Ice Sheet (GrIS). ICECAPS observations have contributed to process-based model evaluation, instrument retrieval development, and the acquisition of operational radiosonde data for weather forecast models.
In 2018, ICECAPS was expanded to include an Aerosol-Cloud Experiment (ACE) through a Natural Environment Research Council (NERC) funded collaboration with NCAS and the University of Leeds, which led to the deployment of additional instruments to measure aerosol concentrations and near-surface turbulent fluxes. This work has resulted in increased understanding of what controls the concentration of aerosols near the surface of the central GrIS, and how these aerosols may limit cloud formation.
This position will be focused on the newest phase of ICECAPS, entitled ICECAPS-MELT. MELT stands for "Measurements along Lagrangian Transects" and this phase of the project will expand the ICECAPS-ACE measurements from Summit along a transect across the percolation zone in SW Greenland. It will focus on investigating processes that affect the surface mass and energy budgets as a function of elevation. As such, the work this role will support is divided between two major goals to:
Continue operation of the ICECAPS-ACE experiment at Summit Station,
Conduct a pilot program that will expand ICECAPS-ACE observations into the percolation zone, where a new autonomous observatory will be deployed for measuring surface mass and energy budget parameters.
This work is motivated by the fact that the coupled-system modelling community for Greenland frequently expresses the need for better measurements to improve weather and climate models for Greenland. The timing and the spatial distribution of precipitation are important because they diverge in different models in early summer, which then have a large impact (through the surface albedo and surface energy balance, SEB) in subsequent melt later in summer. The effect of clouds on surface radiation and the importance of snow deposition and erosion on snow surface microstructure across Greenland have also been emphasised.
Thus, the observations provided by the achievement of these goals will allow us to pursue the following critical science questions:
How do atmospheric and cloud properties vary on inter-annual time scales over the past decade at Summit Station? How are these properties influenced by synoptic variability in both the dry-snow and percolation regions of the GrIS?
What are the balances of the components of the surface mass and energy budgets as a function of elevation on the GrIS? How does the subsurface heat flux respond to atmospheric forcing as a function of elevation?
How is snowpack evolution (local mass balance) at different elevations influenced by synoptic forcing and the SEB? Under what conditions does melt water percolate versus freeze in the snowpack?
How do parameters of the surface mass and energy budgets co-vary in time? Do patterns of co-variability exist on similar temporal and spatial scales?
You will be joining the ICECAPS and NCAS team in Leeds and will work closely with the larger internationally-based ICECAPS team to achieve these goals. This will include visits to our collaborators and to our measurement sites in Greenland.
Apply Now
To explore the post further or for any queries, you may have, please contact: