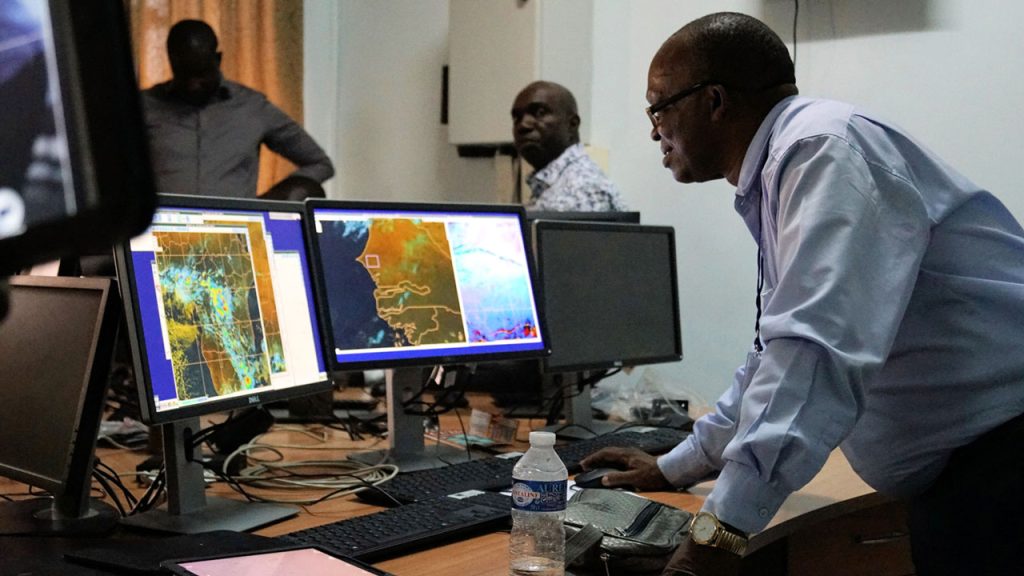 Job Opportunity: Weather Forecast Development and Co-Production Scientist
Location: National Centre for Atmospheric Science, University of Leeds
Salary: £36,333 to £43,155 per annum
Contract length: Fixed Term (until 30 June 2025 due to external funding)
Contract type: Full Time
Closing date: Midnight on Monday 3 July 2023
Would you like to advance the delivery and uptake of African storm forecasting systems? Are you interested in pro-actively working with African partners to increase the effectiveness of severe weather alerts? Would you like to be part of an experienced team and contribute to capacity-building with African partner organisations?
Through the application of innovative meteorological research to harness satellite data, we are developing solutions to deliver nowcasts of high-impact storms to Tropical Africa. The Early Warnings for Southern Africa (EWSA) project has been funded to provide the capabilities needed for African national weather services to enhance their delivery of short-range (0-48 hour) weather forecasts and nowcasts (0-6 hour) and ensure access to high-quality weather information for African populations. Ultimately, better preparedness and informed decision-making using nowcasting information will improve climate resilience and save lives and livelihoods.
The project will focus on the delivery and effectiveness of warnings for marginalised urban communities in Zambia, Mozambique and South Africa. We will conduct two forecasting "testbed" events, in November 2023 and February 2025, bringing together forecasters, researchers and users to co-produce and co-evaluate effective warnings of severe rainfall or flooding.
As Weather Forecast Development and Co-Production Scientist for the EWSA project, you will contribute to the development and uptake of the short-range forecasting systems. In particular, you will support transdisciplinary development of the project, engaging with scientists, forecasters, users and customers to co-produce nowcasting systems and enable better decision making.
The severe weather predictions incorporate the use of weather forecast models, geostationary satellite data, ground-based observations and the production of nowcast products in near-real-time. Warnings are disseminated through a range of media, including web pages, social media, voice radio, a mobile application and API.
You will be working as part of a team including experienced colleagues at the National Centre for Atmospheric Science (NCAS) at the University of Leeds and within partner organisations in the UK (including the UK Met Office) and Africa (led by the South African Weather Service). In addition to your position, at Leeds the project team will comprise: (1) a research scientist, formerly working 100% in this role, but now 10%; (2) a more senior research scientist who has led the successful testing of new forecast algorithms, and is now contributing 20%; (3) a mobile application developer (60%); (4) a computational modelling specialist who is working on the real-time data handling (10%); and (5) a project coordinator (60%). Within this team, we will oversee a transdisciplinary approach and will bring together the underpinning science and needs of users and clients, to enable an effective co-production and co-evaluation of solutions.
You will form part of the FASTA team which has long-term support to provide nowcasting products for Africa, and for which we are actively seeking further funds for sustainable expansion. If you wish, you will be encouraged and supported to seek funding for expansion of the activity, working with the Director and other members of the team to write proposals.
Apply Now
To explore the post further or for any queries you may have, please contact:
Professor Doug Parker, Science Co-ordinator for NCAS at Leeds