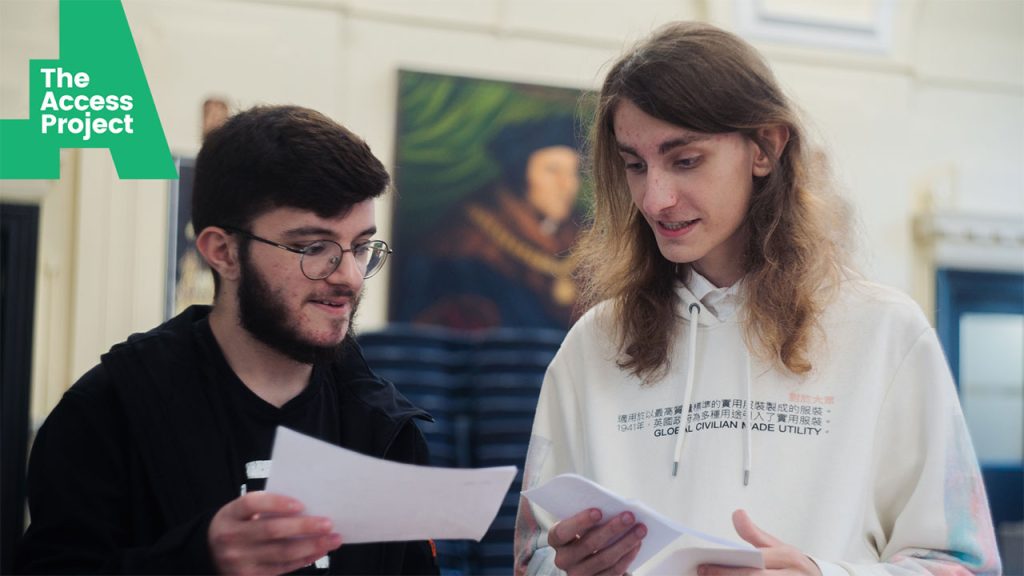 "Tutoring helps to illustrate what science can lead to"
Over the last six months, the National Centre for Atmospheric Science has worked with The Access Project, a tutoring scheme for students from disadvantaged backgrounds, to look at different ways we can make careers in research more inclusive.
The collaboration forms part of our effort to help tackle the long-standing diversity crisis in environmental science, and to build a community of colleagues who champion diversity and inclusion through their actions.
Our colleagues are encouraged to dedicate part of their work hours to support The Access Project as tutors for young people.
"Tutoring is a great way to illustrate what science can lead to," says Dr Stéphane Bauguitte, who has been working alongside a Year 13 student since September.
"I've just delivered my tenth chemistry tutorial and I've really enjoyed the experience. My student likes that I bring real world examples and experiences in the three chemistry topics we've covered so far – infrared, mass spectrometry and energetics" he adds.
The Access Project supports students to access top universities through a combination of tutoring and in-school mentoring. They help students to make good applications, get the grades, and transition to university life.
Dr Bauguitte joined The Access Project as part of his role as a chemistry specialist onboard the FAAM Airborne Laboratory, a specially adapted research aircraft. He feels his experience at work has helped to illuminate topics on the curriculum for his student.
"I sometimes quote the work we do at the FAAM Airborne Laboratory and National Centre for Atmospheric Science to understand atmospheric chemistry reactions, and measure gases such as carbon dioxide, nitrogen dioxide and ozone" says Dr Bauguitte.
"My student asks questions about how we take measurements onboard the FAAM aircraft, in observatories or laboratories. We've formed a really good relationship and have both looked forward to meeting every week."
The Access Project is one of three different partnerships the National Centre for Atmospheric Science has set up to work alongside young people over the next year, alongside Black British in STEM and Nuffield Research Placements, underneath our Community for Change initiative.
The educational charity has a proven track-record in working with people from areas of low participation in higher education. Their impact reports show students with The Access Project are twice as likely to go to a top university as peers from similar backgrounds.
As well as offering a boost to the next generation of scientists, our colleagues have found that building a rewarding relationship with a student has benefitted their lives at work too.
Dr Hannah Price, who works alongside Dr Bauguitte at the FAAM Airborne Laboratory, signed-up seeking to widen participation in science, and to learn about how young people experience science at school.
"It's been fun, challenging and rewarding," explains Dr Price.
"I'm improving my skills in explaining difficult concepts, and I know a lot more about split ring commutators than I used to. We laugh together at how dull some of the past paper questions are – there's nothing like plotting the weights of 50 potatoes to get a teenager bored by maths."
"The most rewarding moments, though, are when the student says 'ah, I get it now.' That really makes me smile."
And, besides academic achievement, when preparing for university, there's a big benefit in having a supportive relationship to help young people explore their future.
Dr Price explains she will often stop mid-session for a chat about life after school, or to explore a transient thought with her student.
"My student will ask 'what is quantum optics?' or 'what's the point of graphs?' There are some questions I can answer better than others – but, when I can't find an answer, I'll find a video to recommend."
"That's also made me realise how common scientist stereotypes are in the media – perhaps that's something we can change too" adds Dr Price.
In term time, Dr Bauguitte and Dr Price spend several hours per week preparing and leading one-to-one sessions with a student studying for a specific GCSE or A-Level qualification.
"At first, it took quite a bit of time to remind myself about the topics, but now that's done it's easier to get ready for each session. We've tended to spend most of our time going through past exam papers" says Dr Price.
Likewise, Dr Bauguitte initially took time to adjust to the new schedule.
"At the beginning, I found A-Level Chemistry daunting, as I hadn't dipped into some of the topics since my Baccalaureat decades ago."
But, he says he's been able to make use of The Access Project resources to support his teaching.
"It only takes around one hour to prepare for the tutorial, which isn't too onerous. The Access Project is very well organised and has provided all the resources I need, as well as formal training such as safeguarding," says Dr Bauguitte.
If you'd like to learn about our Community for Change initiative, or become involved in any of the activities we've lined up for our colleagues, contact us.