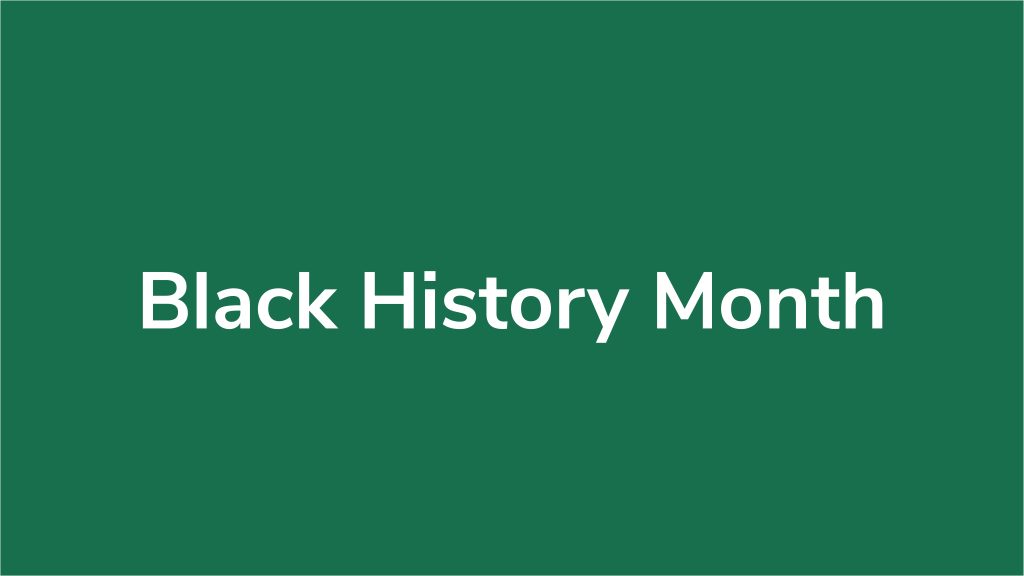 Black History Month: Why we need impactful action across atmospheric science
For Black History Month 2023, we are sharing with staff and colleagues across the atmospheric science community an overview of why Black History Month is important, how black people are underrepresented in UK academia and science, ways we are nurturing diversity at NCAS, and a selection of resources and events staff and colleagues might wish to check out.
Black History Month
Black History Month is a time of celebration, recognition, and reflection every October since 1987 in the UK. It is one of many opportunities to discuss the impact of racism and the importance of anti-racist practices in a personal and professional context.

In the UK, black people are part ethnic minority groups, with the Office for National Statistics reporting that black people represent 4.2% of the population in England and Wales (according to the UK Census 2021).
Black people in UK academia and science
The Higher Education Statistics Agency informs us that in 2021-22 there were only 70 black professors (0.6% of the total). A recent Guardian article also called attention to the absence of black professors in chemistry and physics across the UK, and asked the question "Is UK science institutionally racist?".
In the Guardian article Dr Mark Richards, a physics researcher and lecturer at Imperial College London, explains the difficulty of moving through academia as a black person: "Most of it, I think, comes from being from a minority group and not knowing what routes are open to you, or having anyone to advocate for you".
He continues:, "As a scientist, if the data is worse than you were expecting, your first reaction is 'maybe there is a problem with the method or the equipment'. But no, the stats are just really bad."
The Royal Society has recently announced a Career Development Fellowship that aims to support the retention in STEM of researchers from underrepresented backgrounds, and the scheme will initially run as a pilot with researchers from black heritage.
This scheme will provide an excellent career opportunity for these scientists, however the Royal Society urges that it should be the role of the wider STEM community to drive change and dismantle the barriers that lead to systemic discrimination. Those with the power to make change have the responsibility to do so.
Black women in STEM
The impact of intersectionality – where a person belongs to more than one minority group or has more than one protected characteristic – is highlighted by the fact that only 10 science professors in the UK are black women. Structural barriers such as lack of access to resources and mentorship, implicit bias and discrimination, and cultural stereotypes and norms can deter women, especially black women, from pursuing STEM careers.
Despite these obstacles, black women in the UK have made significant contributions to STEM fields. For example, Dr Maggie Aderin-Pocock has not only made important contributions to space science, but has also worked to promote science education and diversity in STEM through her work with schools and outreach programs. Find out about more notable black women who have made important contributions to STEM in the UK.
This year's theme for Black History Month is 'Saluting Our Sisters', honouring the vital roles black women have played in shaping history, inspiring change, and building communities.
Nurturing diversity at NCAS
At the National Centre for Atmospheric Science (NCAS) we recognise that environmental research in the UK – including the atmospheric science community – is not sufficiently diverse. In 2022, around 100 people in our staff community took part in an anonymous survey that tracked different types of diversity. We asked our staff: "Do you consider yourself to be from a minority, cultural, or ethnic group?" and 89% said no, 10% said yes, and 1% preferred not to say.
We are taking steps to actively nurture inclusion.
We launched our Community for Change in 2021, which aims to create a lively network of colleagues working to make environmental science more accessible for everyone. We now have nearly 40% of our staff participating in the NCAS Community for Change, with the majority of the members (over 80%) having completed Active Bystander training, equipping them with the tools to tackle micro-aggressions and harassment in the workplace.
As part of the Community for Change, we also have an ongoing commitment and partnership with the Black British Professionals in STEM (BBSTEM) Bridge Mentoring Programme. The voluntary programme is designed to set-up mentorship opportunities between BBSTEM student members and professionals to share career support, guidance and information.
To improve diversity and inclusion in our staff network, we are building upon our approach towards inclusive recruitment. This includes implementing targeted advertising techniques, providing explicit offers of reasonable adjustments for interview candidates, and innovating our interviewing techniques.
And our Equality Diversity and Inclusion Committee are actively involved in staff policy development through focus groups to improve staff support during promotions, training and fieldwork.
Black History Month – resources and events
We would likWe would like to highlight a selection of resources and events taking place throughout Black History Month, and beyond. We hope these will offer staff some support, and reflection time, for taking responsible steps – as individuals and as a staff network – towards a more equal, diverse, and inclusive workplace.
Next steps
We will be embedding a range of follow-on activities throughout the year to support and integrate our approach to equality, diversity, and inclusion at a strategic and local level across our organisation.
If you would like to speak to someone about equality, diversity, and inclusion at the National Centre for Atmospheric Science, please get in touch with Lisa Banton and Jacqui Hamilton. If you would like to know more about the Community for Change, please contact Frances Dee.