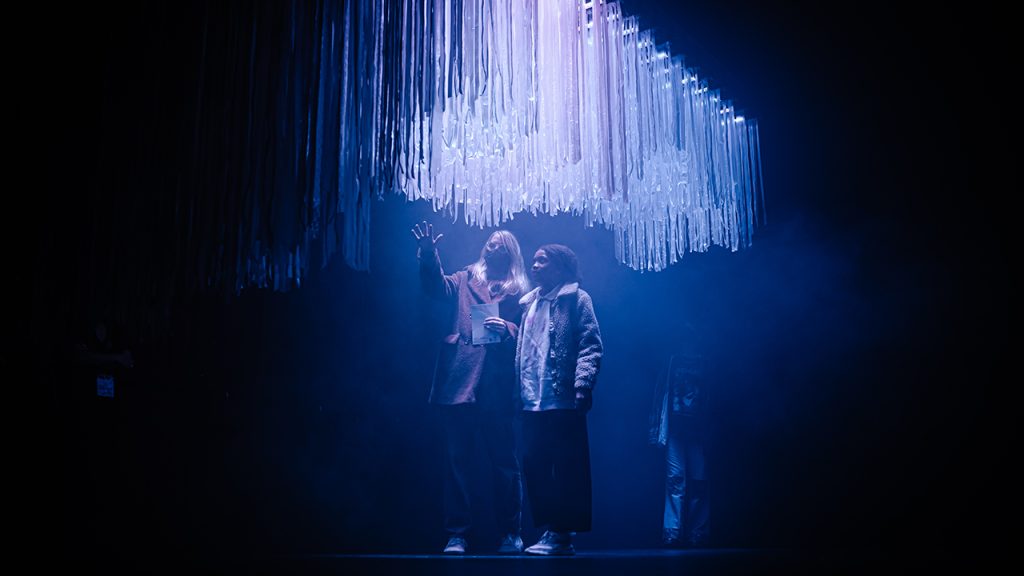 Climate Canopy installed at United Nations Climate Change Conference
The science-art light installation Climate Canopy will be exhibited for world leaders at the United Nations Climate Change Conference in Glasgow.
The suspended structure will illuminate tens of thousands of passing delegates in the Blue Zone, displaying the history of global temperature rise, at one of the most decisive events in our lifetime.
The display, created by the National Centre for Atmospheric Science and Leeds-based artist Alison Smith, is formed from coloured stripes of light which represent 170 year of global temperature data.
There are 26 stripes in total, highlighting the importance of this year's conference, which is known as COP26.
As delegates move under the sculpture, the lights transition from blue to red, and the fringed panels become longer, reflecting the growing impacts of climate change in virtually every region worldwide.
The reality of climate change will, quite literally, hang above world leaders, as they work to build a greener future.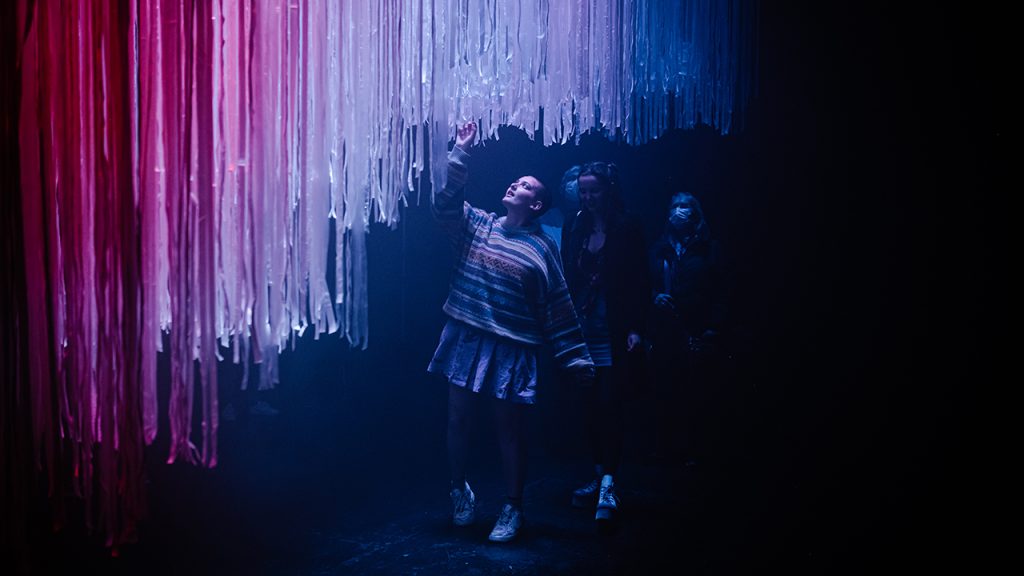 Climate Canopy
Climate Canopy was created to highlight the urgency of the climate crisis, and start conversations about the choices and actions that define our future. It was first displayed at Leeds Light Night earlier this year.
To display the art installation at the United Nations conference sends a powerful message about the way that art and science can work together to engage people in environmental issues.
"Artists are storytellers, and by collaborating with scientists, we can translate the stories and messages within research and data" says artist Alison Smith, who is known for her sustainable approach to art.
"Pieces like Climate Canopy present complicated environmental issues in physical forms, and allow people to see climate change from a different perspective, and through a memorable, in-person experience."
Alison and her team created Climate Canopy using low-energy products and recycled materials, such as plastic packaging and textile offcuts that would usually be considered waste, promoting the idea of restoring balance between man-made things and the natural world.
The exhibit is modelled on a data visualisation created by Professor Ed Hawkins MBE, called Warming Stripes.
Professor Hawkins, University of Reading and National Centre for Atmospheric Science, swapped numerical data for shades of blue and red to create a simple timeline of global warming.
"Colours intuitively convey trends in global temperatures – without technical distractions – and have helped to make the Warming Stripes an international symbol for climate change" says Professor Hawkins.
COP26
On 31st October 2021, world leaders will arrive in the city of Glasgow, Scotland, alongside negotiators, government representatives, businesses and citizens for twelve days of talks on climate change.
Nations will be under pressure to accelerate action towards the goals of the Paris Agreement and UN Convention on Climate Change, and clearly plan how to limit greenhouse gas emissions over the next decade.
For the Climate Canopy team, it's one of the biggest possible stages to present their work.
"It's a huge privilege to display our work at the United Nations conference. I hope the Climate Canopy can convey the immediacy of climate change, and the need for urgent action" says Alison Smith.