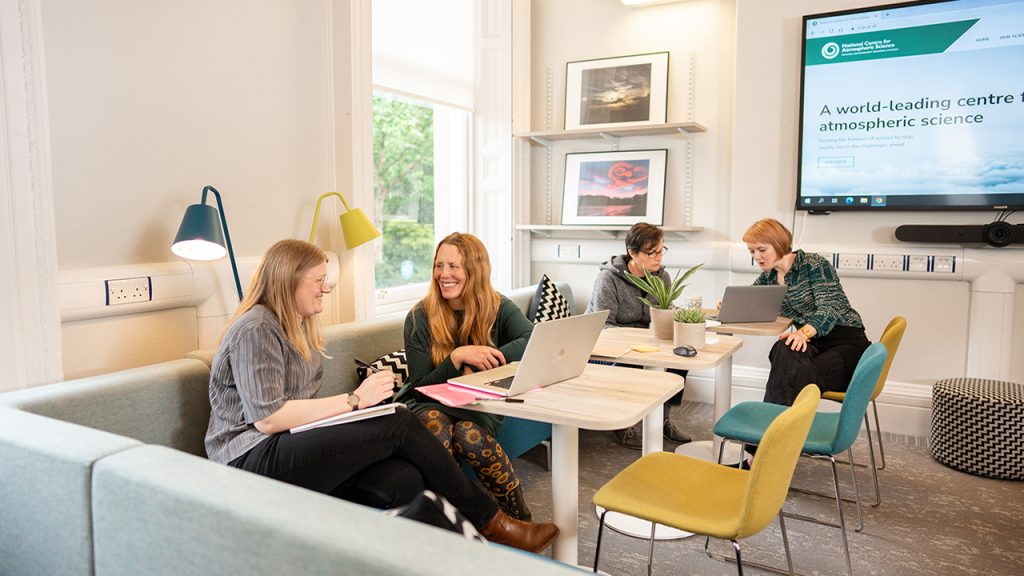 Celebrating our colleagues
The Atmospheric Stars Awards aim to thank and reward people for making a positive difference at work, going above and beyond in their activities, and being exceptional colleagues. We hope that the Atmospheric Stars Awards are a way to celebrate those who work at NCAS.
Nominations
You can put forward any colleague, at any time of year, by filling out the Atmospheric Stars Award nomination form. This is a simple google form that shouldn't take more than a few minutes to complete. The 2022 nomination deadline is Friday 11 November.
We encourage you to take some time to consider which of your colleagues have made a real difference to you, your team, your projects, or NCAS as a whole.
All staff are eligible and anyone in NCAS can nominate anyone else. A person can only receive one award a year – but you can make as many different nominations as you like – and the activity they are being recognised for should have been completed in the past year.
Award winners
Successful recipients will be decided by a panel of staff members. The awarding panel will meet in mid November. The 2022 nomination deadline is Friday 11 November.
Awards, along with a £50 gift voucher per recipient, will be presented at the end of year online NCAS Staff Meeting.
There will be up to 20 Atmospheric Stars awarded each year, but no limit to the number of nominations you can make.
Atmospheric Stars Awards 2022
Debi Cruz, Finance and Contracts Officer, based at FAAM
Nathan Betts, Communications Officer, based in Leeds
Vicky Boult, Research Scientist, based in Reading
Laurents Marker, Software Developer, based in Leeds
Nicola Bray, Senior Administrator, based in Reading
Jim Hopkins, Research Scientist, based in York
Ali Gane, Workforce Lifecycle Manager, based in Leeds
Doug Anderson, FAAM Aircraft Deployment Specialist, based at FAAM
Maria Russo, Research Scientist, based in Cambridge
David Appleyard, IT Technical Projects Specialist, based in Leeds
Frances Dee, People and Community for Change Officer, based in Leeds
Dave Sproson, FAAM Data Scientist, based at FAAM
Katie Read, Research scientist and Technical Specialist for the Cape Verde Atmospheric Observatory, based in York
Harriett Richardson, Communications Manager, based in Leeds
Awards panel
Would you like to join the awarding panel?
We're looking for panel members from across NCAS sites, and from a range of roles and pay bands. The anticipated time commitment will be a few hours to read the nominations, and then to participate in a panel meeting (via Zoom) to decide on the successful nominations.
Nomination examples
Wondering what you could nominate someone for? Here are some examples – this is by no means a complete or definitive list:
Example 1
NCAS hosts a Nuffield Research Placement student at York. Jo is not involved in mentoring the student but notices they are finding the placement difficult. Jo uses their break times to ensure the student is made to feel included and welcome. Jo talks them through the tasks they have been given, ensuring the student has a good experience and that the placement is a success. The person co-ordinating the placement notices this, thanks Jo, and nominates them for an Atmospheric Stars Award.
Example 2
Shenjie is feeling apprehensive about attending an in-person NCAS meeting. They discuss this with their colleague Sue, who offers to buddy up with Shenjie during the meeting. Sue meets Shenjie for breakfast at the hotel, and brings Shenjie into group conversations. At the evening social event, Sue gathers a small group of people together to play a board game in a quiet corner. Sue encourages Shenjie to join them. Shenjie is grateful for the support from Sue, and feels like the meeting went well. Shenjie nominates Sue for an Atmospheric Stars Award.
Example 3
Following a local festival the Chilbolton Atmospheric Observatory site has litter blowing all over the site. The local estates team are inundated with high priority maintenance work and cannot deal with this anytime soon. Sam discusses this issue with a couple of colleagues. They agree to spend 15 minutes each lunchtime for a couple of weeks to go for a walk together and pick the litter to make the site tidy again. Another colleague notices this and appreciates what they are doing and nominates them for an Atmospheric Stars Award.
Example 4
Prudence is from the University of Colorado, and has joined a research campaign in Norway as an instrument scientist. It's their first time working with the FAAM Airborne Laboratory. On arrival in Norway, Prudence tests positive for Covid. This means they have to complete a 7 day quarantine period in a hotel room, and they feel very isolated and concerned. Dave and Hayat (two NCAS scientists on the campaign) ensure that they keep in regular contact with Prudence. They include Prudence on a virtual quiz night, and even pop on a video call at dinner times so Prudence doesn't have to eat every meal alone. Prudence tests negative, completes the quarantine, and starts to feel better. Dave and Hayat make sure that Prudence is ready to fly and takes regular breaks to rest. Prudence's manager writes to the Head of the FAAM to say how this support was "above and beyond". The Head of FAAM nominates Dave and Hayat for an Atmospheric Stars Award.
Example 5
Otis is a modeller, and shares an office with Gill. They joined NCAS some time ago and have worked together on various projects over the years. Otis is trying to get their head around a challenging piece of code development, and it's taking them longer to figure out than they expected to. Otis and Gill regularly check in with each other and offer bits of advice here and there. Despite Gill being really snowed under with work, they sit down with Otis one afternoon – and the following morning – to offer up some suggestions and smooth over some of the programming issues. Otis really appreciates Gill's extra time, effort, experience, and positivity – and wants them to be recognised for being such a fantastic office mate. Otis nominates Gill for an Atmospheric Stars Award.
Further recognition
We still urge you to follow formal recognition processes at your host institutions, as the Atmospheric Stars Awards aren't intended to be a substitute or to impact on promotions or other employee rewards.
NCAS also recognises staff for long-term commitment. Long Service Awards (to be announced soon) are presented for each decade of service to NCAS.