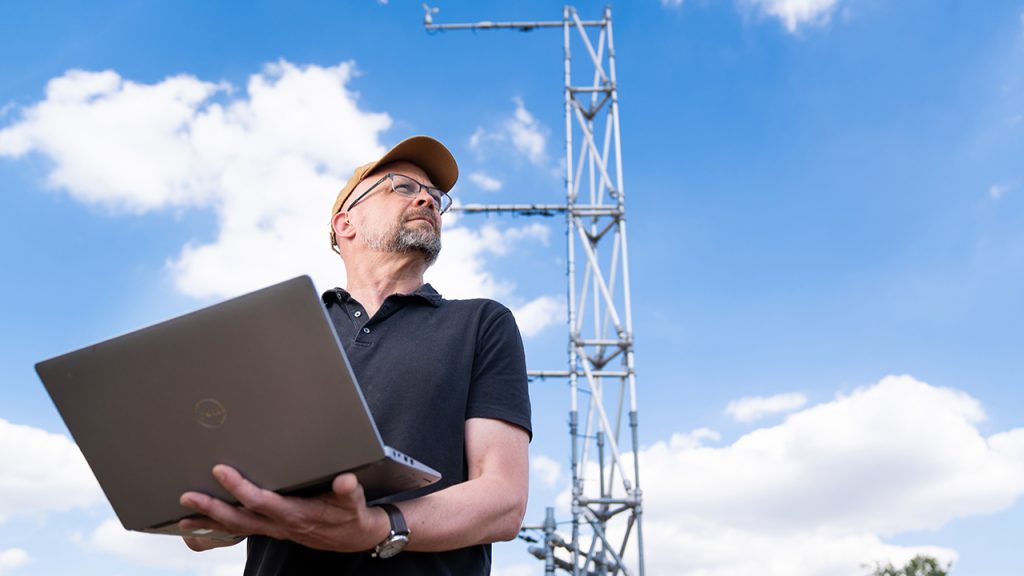 Hot weather on the way – how likely are summer heatwaves in the UK?
The UK Health Security Agency and the Met Office have issued the UK's first Heat Health Alert of the year, ahead of sustained hot weather over the coming weekend. We asked weather and climate researchers at the National Centre for Atmospheric Science to explain the weather conditions creating the hot spell, and the likelihood of summer heatwaves with climate change.
"The UK has had settled weather since mid-May due to an area of anticyclonic high atmospheric pressure that built up over Central Europe." explains Professor Len Shaffrey from the National Centre for Atmospheric Science and University of Reading.

Professor Shaffrey adds: "Over the past few days, a powerful subtropical storm (named Storm Oscar by the Spanish Met Service) has developed off the west coast of Spain and Portugal. Storm Oscar is now moving northwards into the central North Atlantic Ocean."
He continues: "This will bring warm air from the south, leading to a period of hot weather across the UK and possible thunderstorms for Wales and parts of England."
Whilst it may not seem rapid, Earth is warming at a rate that is unprecedented in the history of human civilisation. The average temperature at the Earth's surface has risen by about 1°C since the pre-industrial period, and 17 of the 18 warmest years on record have occurred in the 21st century.
The global rise in temperatures means that hot spells and heatwaves are occurring against a warmer background and so are more likely to become extreme. Professor Rowan Sutton from the National Centre for Atmospheric Science and University of Reading emphasises: 
"Rapid warming means we must expect extreme event records to be broken – not just by small margins but quite often by very large ones." 
Recent reports from the Intergovernmental Panel on Climate Change share compelling evidence that human-induced climate change is affecting weather and climate extremes in every region on Earth.
With every degree of additional warming to the world's climate, the frequency and intensity of heatwaves are projected to get worse in future.
In the next three decades, heatwaves could become two to seven times more frequent across the world – including the UK – than in the last 30 years. Beyond 2050, if global greenhouse gas emissions continue to rise, hazardous hot spells could be three to 21 times more frequent.
"Heatwaves can be deadly, and we must treat them with enormous seriousness. We can limit future damages, and the potential for them to become even worse, by making rapid and substantial cuts to our emissions of greenhouse gases." says Professor Andrew Turner from the National Centre for Atmospheric Science and University of Reading.
Forecasters have been able to provide warning of the upcoming high temperatures. Professor Turner adds:
"The forecasting of this extended period of hot weather will help health and social care professionals in reducing the harmful impacts on people across the UK. A yellow alert signals that people who are particularly vulnerable, like older people with multiple health conditions, are likely to struggle to cope with the temperature. The amber alert indicates that all people within the affected region have the potential to be at risk. Last summer, the first ever red warning for extreme heat was issued in the UK due to record-breaking temperatures and significant risk to life."
Other regions around the world undergo damaging heatwaves, including those last summer in northern India – a common occurrence prior to the onset of the summer monsoon rains – leading to crop damage, power cuts due to increased demand for air conditioning, shortages in water supply and loss of life.
In summer 2021, prolonged hot and dry weather exacerbated the conditions underpinning wildfires in Greece and other parts of southern Europe, leading to widespread property damage and loss of forests.
In 2022 the UK experienced high temperatures in July when warm weather was exacerbated by hot air moving upwards from Europe. The temperatures can cause disruption to travel and infrastructure, and pose a danger to life – with the risk to health not just limited to vulnerable people. 
In the tropical hot regions of the world, such as Africa, where 50°C temperatures are being felt, hundreds of millions of people are increasingly exposed to deadly heat. Even in the UK, past heatwaves have been responsible for thousands of excess deaths.
Future impacts will be more severe unless we develop much more effective strategies to prepare and protect people.
Some advice has been issued about staying out of the sun, drinking plenty of water and understanding the warning signs of heatstroke and heat exhaustion.
In the future we need to get better at finding ways to respond to hot spells and heatwaves when they are predicted, developing infrastructure adaptations, and changing our patterns of work and travel. Adapting our homes and places of work to better cope with a warmer environment – improved insulation and ventilation systems will be key.