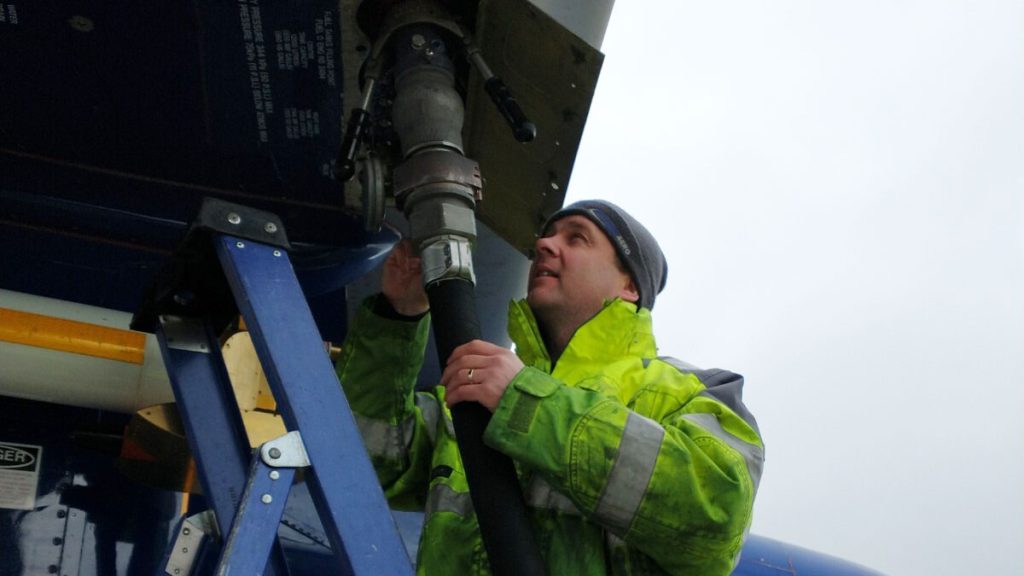 FAAM Airborne Laboratory flies with sustainable aviation fuel
The FAAM Airborne Laboratory, which operates a specially adapted BAE-146 aircraft* fitted with scientific instruments, has used a blend of sustainable aviation fuel for the first time this week on a routine crew training flight in the south of England. 
Sustainable aviation fuel has the potential to reduce greenhouse gas emissions in aviation by up to 80%, compared to jet fuel sourced from crude oil, and is made from 100% renewable waste, bio-fuels and residual raw materials, like recovered cooking oil. Sustainable aviation fuel can be used as a direct replacement, and is fully compatible with our BAE-146 aircraft engines and fuelling infrastructure. 
Many airlines and major airports around the world are already using sustainable aviation fuel blends, and it has supported hundreds of thousands of flights worldwide since 2016. The demand for sustainable aviation fuel is growing rapidly, and the FAAM Airborne Laboratory is delighted to now bring sustainable aviation fuel into its operation from spring 2023.
We need to reduce our carbon emissions and take quick action where we can in order to support UK Research and Innovation's commitment to achieve net zero by 2040. The FAAM Airborne Laboratory is adopting a range of sustainable practices, beyond switching fuel type, to reduce carbon emissions while continuing to make world-class measurements of the atmosphere.

Over the last year, we have been working with the wider National Centre for Atmospheric Science team to understand the impacts we create, and gain insights into our carbon footprint. We are making progress towards phasing out avoidable life cycle carbon emissions, not just those from the aircraft's tailpipe, and ensuring we use clean power to supply our operations where practicable.

Alan Woolley, Head of the FAAM Airborne Laboratory
Alongside forthcoming plans to source sustainable aviation fuel supplies and storage for future flights from its home base at Cranfield Airport, the FAAM Airborne Laboratory will be using local solar energy and electric – rather than diesel – powered ground power units, towing equipment, and hangar facilities.
By preventing significant amounts of fossil-based greenhouse gas emissions from entering the atmosphere from flying a research aircraft, the FAAM Airborne Laboratory is helping to combat climate change through the way it operates – not just through the science it supports.

Climate change, air pollution, and hazardous weather scientists have used the research aircraft to study the world and inform environmental policies for more than 20 years – and they can expect to be flying aboard a more sustainable aircraft this year and into the future.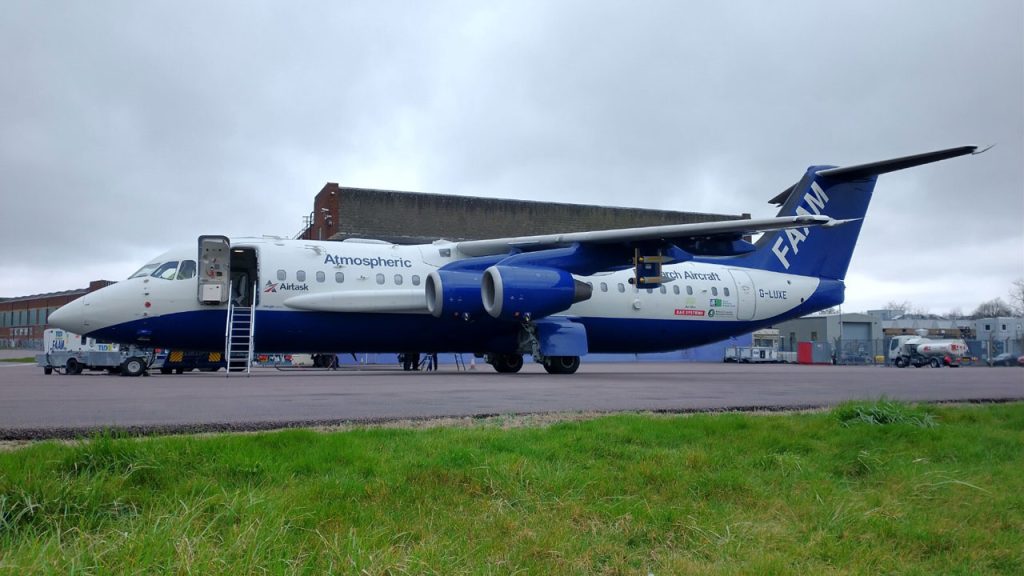 *The FAAM Airborne Laboratory's research aircraft is owned by UK Research and Innovation and the Natural Environmental Research Council. It is managed through the National Centre for Atmospheric Science, and leased through the University of Leeds. The aircraft is supported, modified and upgraded by BAE Systems, operated by Airtask Group, and maintained by Avalon Aero. It is hangared in Bedfordshire, with Cranfield Airport at Cranfield University.