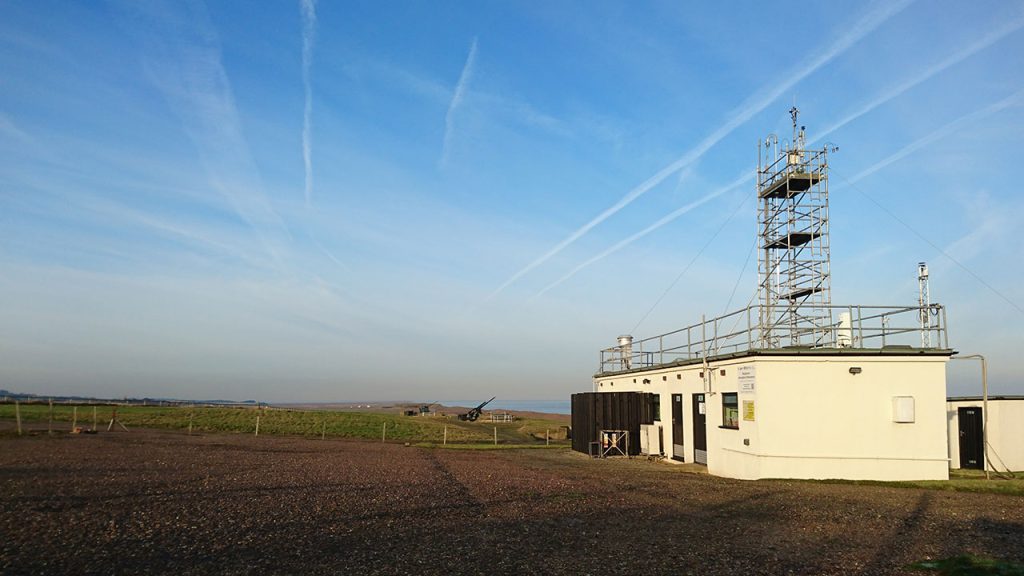 Weybourne Atmospheric Observatory underpins breakthrough in tracking carbon dioxide emissions
A team of scientists have made a major breakthrough in detecting changes in fossil fuel carbon dioxide emissions using measurements from the Weybourne Atmospheric Observatory.
The study, published in the journal Science Advances and led by the University of East Anglia, uses a new method to distinguish between carbon dioxide emissions from burning fossil fuels and those from natural sources – such as soil and plants.
Researchers were also able to quantify fossil fuel carbon dioxide emissions reductions during the Covid-19 lockdowns of 2020 and 2021, using this new technique.
The team's approach combines machine learning and long-term atmospheric measurements, and allows researchers to quantify regional carbon dioxide emissions in near real-time, with higher accuracy than has previously been possible.
Previously, attempts to separate fossil fuel carbon dioxide from natural carbon dioxide using atmospheric measurements have been largely unsuccessful – meaning scientists had to rely on indirect data sources instead, which can take months or years to compile.
Now, scientists will be able to detect changes in carbon dioxide emissions much more frequently, such as daily, while remaining highly accurate.
The new method for quantifying regional fossil fuel carbon dioxide emissions is dependent on continuous atmospheric measurements of oxygen, carbon dioxide, and weather conditions.
The team used ten years of hourly measurements of atmospheric oxygen, carbon dioxide, and meteorology from Weybourne Atmospheric Observatory, located on the north Norfolk coastline.
The Weybourne Atmospheric Observatory is supported by the National Centre for Atmospheric Science, operated by the University of East Anglia, and is part of the Atmospheric Observation and Measurement Facility. The observatory provides long-term measurements that underpin a variety of research into air pollution and climate change.
Weybourne Atmospheric Observatory provides a key foundation for understanding change in our atmosphere. It is essential to have on-going and long-term records because they provide the building blocks for studies into our climate – not only in terms of monitoring emissions, but also for evaluating policy and projecting future change.

Dr Grant Forster, Research Scientist at the National Centre for Atmospheric Science
The team believes that a network of continuous measurement sites has strong potential for providing a similar evaluation of fossil fuel carbon dioxide emissions at regional levels across the country.
The study is a major achievement in atmospheric science and plays a key role in helping us tackle climate change, according to lead author Dr Penelope Pickers.
"If humans are to reduce our carbon dioxide emissions from fossil fuels and our impact on the climate, we first need to know how much emissions are changing."
"Several other methods, based solely on carbon dioxide data, have been unsuccessful, owing to large emissions from land plants, which obscure fossil fuel carbon dioxide signals in the atmosphere," explains Dr Pickers.
Crucially, the new approach to monitoring carbon dioxide emissions will be top-down, rather than bottom-up.
At the moment, fossil fuel carbon dioxide emissions are reported using accounting methods that combine emission factors with energy statistics. These are compiled into national inventories of estimated greenhouse gas emissions to the atmosphere.
It can take years for the inventory assessments to be completed, and at the regional scale, or on a monthly or weekly basis, the uncertainties are much larger.
An alternative method of estimating greenhouse gas emissions is to use a 'top-down' approach, based on atmospheric measurements and modelling.
The UK emissions inventory is already successfully informed and supported by independent top-down assessments for some key greenhouse gases, such as methane and nitrous oxide.
But for carbon dioxide, the most important greenhouse for climate change, this has never before been feasible, because of the difficulties distinguishing between carbon dioxide emissions from fossil fuels and land plant sources in the atmosphere.
Dr Pickers said: "The time taken for inventories to be completed makes it hard to characterise changes in emissions that happen suddenly, such as the reductions associated with the Covid pandemic lockdowns.
"We need reliable fossil fuel CO2 emissions estimates quickly and at finer scales, so that we can monitor and inform climate change policies to prevent reaching 2°C of global warming," explains Dr Pickers.
Researchers showed their estimates were in good agreement with independent emissions estimates produced by the Department for Business, Energy and Industrial Strategy, the Global Carbon Budget and Carbon Monitor, which use different methods to calculate emissions – such as energy usage.