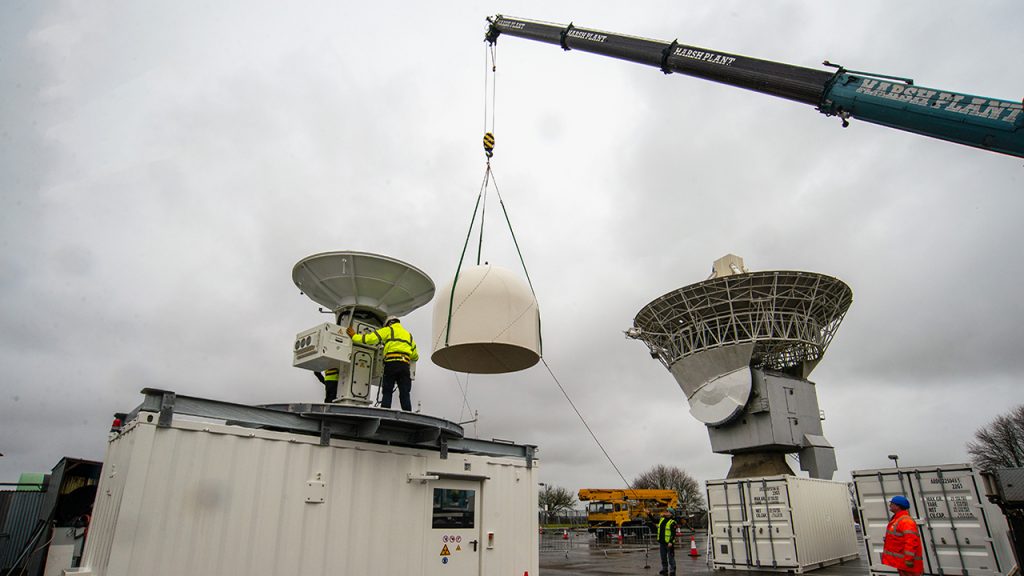 New moveable weather radar ready for deployment
A team of researchers from the National Centre for Atmospheric Science have successfully installed a new state-of-the-art moveable weather radar, funded by the UK Research and Innovation World Class Laboratories Fund.
The new specialised weather radar will help researchers to study clouds and different types of precipitation on fieldwork campaigns worldwide, and lead to improved weather forecasts and climate projections.
The radar, known as NXPol-2, operates at X-band frequency, which is a shorter wavelength suitable for close-range observations of clouds within 150km.
It is also a dual-polarisation radar, which means it transmits two pulses of radio waves simultaneously, perpendicular to each other, which enables both the size and shape of particles to be determined.
Weather radars are the most effective way to collect real-time rainfall information, and the National Centre for Atmospheric Science operates the only mobile weather radar in the UK.
Dr Ryan Neely III, National Centre for Atmospheric Science and University of Leeds, leads the radar team. He explains:

"One of NXPol-2 unique strengths lies in its portability, which means it can collect highly detailed information in regions where stationary radar cannot reach, or cannot be permanently installed. Initially, we have installed the radar at Chilbolton Atmospheric Observatory, where researchers can calibrate and compare their measurements alongside a suite of atmospheric instruments, including one of the world's largest steerable weather radars."
The radar unit is housed on top of a large shipping container, and in future can be deployed almost anywhere worldwide to support scientists. Inside the shipping container, researchers have set-up a work space that can be transported with the radar.
The National Centre for Atmospheric Science has previously deployed a radar mounted on a trailer (NXPol-1) on successful science campaigns, including a twelve-month stint on the Lake District coastline to help improve flood forecasting and warning services in the region.
The new radar has already been lined up to support a number of upcoming fieldwork projects. The first takes place this summer in Southern England, and will look to improve prediction of convective storms as part of a Met Office programme. Beyond that, the radar has been planned into field deployments in both Europe and Antarctica.
Unlike the previous radar unit, the new model has been equipped with a large outer shield – known as a radome – that means the radar can operate during high winds. Access to the radar, under cover of the radome, can now be made via a trapdoor inside the shipping container – making repair and maintenance much easier than before as it is protected from the weather.
Dr Lindsay Bennett, a radar instrument scientist at the National Centre for Atmospheric Science and University of Leeds explains:
"We've had years of experience with our previous X-band radar, and we've used our experiences to design a more robust system for our new radar. We can deploy the NXPol-2 in even harsher environments than before, which allows us to support science worldwide and in remote areas."
With new investment, the National Centre for Atmospheric Science and Atmospheric Measurement and Observation Facility can continue to provide the infrastructure needed for national and international science programmes.
NXPol-2 joins a suite of instrumentation that will help to collect observations that support real-world applications, from improved climate models, to weather forecasts and flood warnings.